Civil Engineering
How To Make Method Statement For Excavation And Backfilling
Make Method Statement For Excavation And Backfilling |Introduction of Method Statement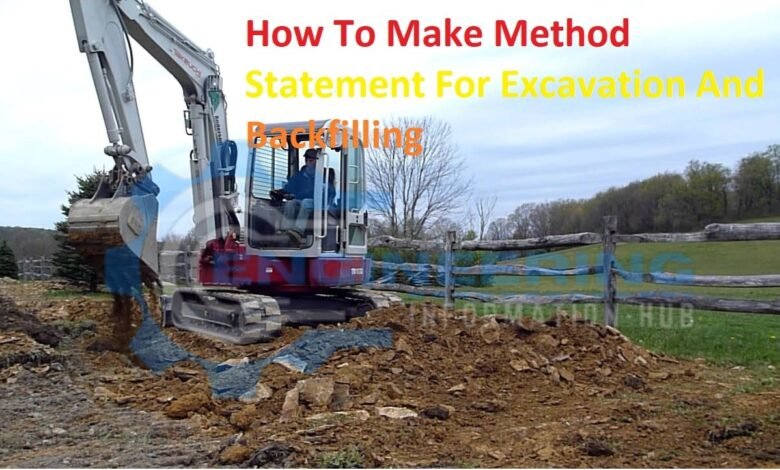 How To Make Method Statement

For Excavation And Backfilling
The Meaning of the Method statement is the procedure to perform any activity in all industries and construction filed because all industries or any live plant need to perform all activity as per plant standards and also follow all safety standards. without anyone's standards, we cannot proceed with any activity. How To Make Method Statement For Excavation And Backfilling |Make Method Statement For Excavation And Backfilling |Introduction of Method Statement
Table of Contents
Introduction

Standards And References 

Survey

Excavation Materials

Tools And Equipment

Disposal

Work Permit

Site Preparation 

Demolishing Plan

Excavation Plan

Safety

Responsibility 

Backfilling And Compaction
This Method Statement describes a proper work procedure that shall be carried out during excavation and backfilling in Different stages as per specification and IFC drawings.
Standards & Reference 
Survey Coordinates And Datum
Excavation And Backfill
Safety Identification And SafetyColors
Survey 
Total Station with Accessories
Auto Level with Accessories
Cable & Metal Detectors
Excavation And Material
Natural Soil, Sand, Base Course
Concrete & Asphalt Pavements
Tools & Equipment
Plastic Shovel, Metal Shawl, Pickaxe, Crew Bar 
Wheelbarrow, Meter tape
Power Tools (Grinder)
Asphalt/concrete Cutter 
Air Jack Hammer 
Electric Hammer (HILTI)
Air Compressor
JCB Backhoe 
Dump truck 
Welding Generator 
Jumper Compactor
Plate Compactor
Wheel Roller
Water Tanker
Disposal 
All unusable excavated and demolished material will be deposed.
Work Permit 
A work permit shall be obtained as required before excavation work is started.

The work permit issuer shall ensure that underground utilities/installations have been located and marked (e.g., by flags or chalk) before excavation activities begin by using Cable/Metal Detectors.

These work permit procedures shall incorporate the excavation safety provisions and checklists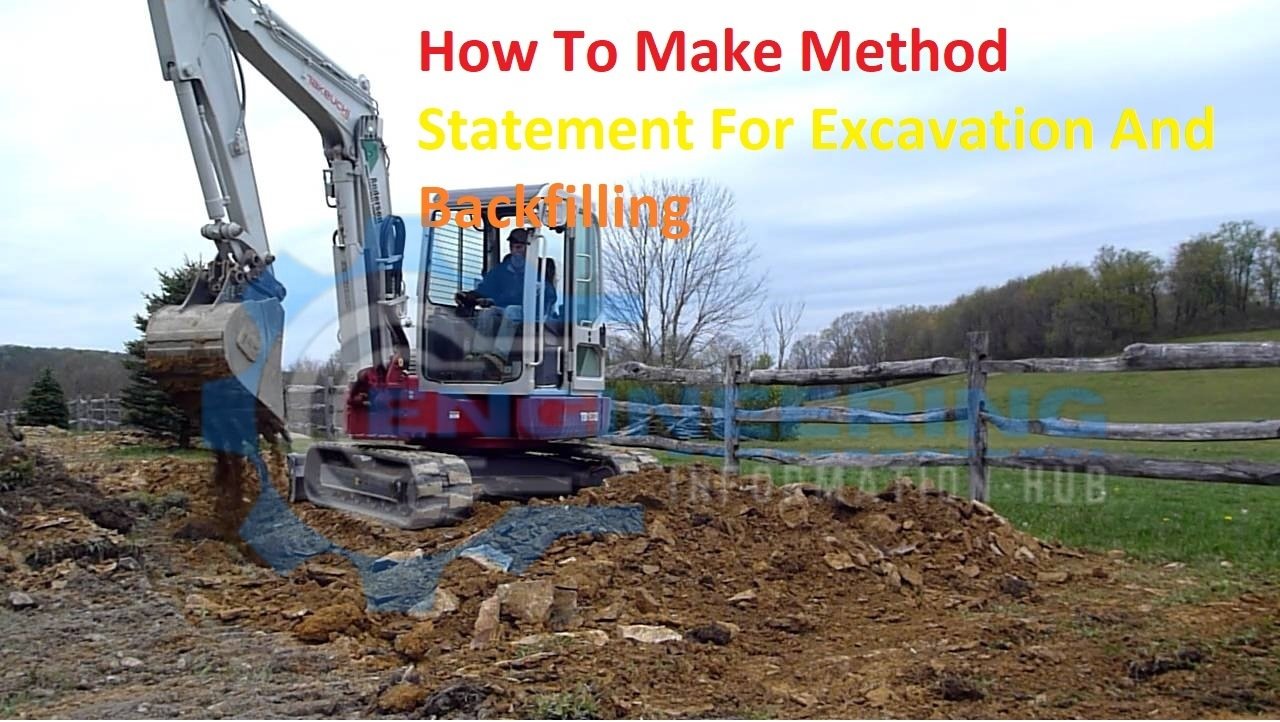 Site Preparation
Setting out (Survey) surveyor would conduct the site survey to mark/stake out the lines and levels of the objective excavation for foundations as per indicated in the approved drawing using Auto Level &

Total Station Instruments

Placing Proper safety barricade, (Indication lights and warning sing bards)
Stability and proximity of

adjacent structures

, including the location and depth of foundations.
Identify the Presence of nearby process equipment or piping with the potential for the release of hydrocarbon or toxic materials (e.g., H2S).
All necessary approval including clearance for

underground utilities

shall be obtained prior to commencing any work.
No work shall be done without approved IFC drawings.
Layout and

marking inspection

clearance shall be obtained
Demolishing Plan 
Protection:

Carefully protect all mechanical and electrical equipment against dust and debris.
Asphalt/Concrete cutting: Asphalt/Concrete cutting using an Asphalt cutter machine and Grinder with a diamond concrete cutting disc.
Demolition: Asphalt/Concrete demolition using an Air jack Hammer with an air compressor. Demolition work also proceeds by using Electric Jack Hammer (HILTI Machine) with Welding Generator.
Removal: Remove all debris from the structures during demolition and do not allow debris to accumulate in piles.
Access: always Provide safe access for all working areas with adequate protection from falling material.

Protection:

Provide adequate scaffolding, shoring, bracing railings, toe boards, and protective covering during demolition to protect personnel and equipment against injury or damage. Cover floor openings are not used for material drops with material substantial enough to support any loads placed on it. Properly secure the covers to prevent accidental movement.
Lighting: Always Provide adequate lighting during demolition.
Closed Areas: Close areas below demolition work to anyone while removal is in progress.
Material Drops: Do not drop any material to any point lying outside the structure's exterior walls unless the area is effectively protected.
Final Removal: Remove all debris, rubbish, and scrap pieces by using JCB & Dump Truck. Take title to all demolished materials and remove such items from the site.
Excavation plan
Describe the materials and shoring system (Metal Planks/Metal Plates to be used
Indicate whether any shoring components will remain after filling or backfilling
The area to be excavated shall be adequately marked and clear before starting the works. 
The depth of excavation shall be periodically checked by a surveyor to avoid over-excavation. The excavated area shall be sloped 30 degrees and shall be maintained to avoid a collapse of the trench into the excavated area.
All excavated material shall be kept a minimum of 1.0 meters from the edge of the excavation. 
All excavated material was removed from the edge of the trench by using JCB.
Water Tanker Using for water spraying on the soil for dust control
Safety

 
Make sure that all necessary work permits are issued.
Full PPE must implement on-site.
Must use proper tools and equipment.
Avoid direct contact with chemical and fire objects.  
Stay away from any suspended load/falling objects.
full body harness when working on an elevated platform.
Ensure that barricades and warning signs are properly installed.
Ensure that there are no hazardous or combustible gases present in the work area.
Implement and monitor safety instructions on site
Responsibility
Project Manager: Responsible for accomplishing the stated project objectives which include creating clear and attainable project objectives, and project requirements, and managing the constraints of the project management triangle, time, scope, and quality.
Site Supervisor/Engineer: Supervise closely, the activities designated to them and ensure that all instructions and safety procedures are followed and strictly followed. Supervise the work to ensure that technical, quality, standard, and safety requirements are met.
HSE: Ensures the enforcement of safety procedures in accordance with the approved HSE Plan
QA/QC: Civil QCI shall be approved, All RFIs shall be raised prior to 24 Hrs, QCI shall make sure to get approval on MAR for all materials procured, third party lab, concrete supplier, etc. and material receiving inspection will be conducted accordingly.
Backfilling and Compaction 
Required compaction shall be as per standard
Compaction performance shall be at least 90 % for General filling.
Compaction performance shall be at least 95 % for Structural filling by using Plate Compactor, Jumping Compactor & Wheel Roller.
Backfilling and removal of shoring shall be accomplished first by backfilling up to a level allowing for the removal of the lower braces.
Another layer of backfill shall be positioned in the excavation up to the next layer of braces to be removed.
Removal of shoring shall progress together with the backfill from the bottom to the top of the excavation.
In unstable soil, ropes shall pull out the jacks or braces from above after all employees have exited the excavation.
All excavations shall be backfilled and the surface left in good condition.
For the foundation, as soon as the excavation reaches the required depth/elevation the surface shall be leveled and shall be compacted to 95 % of maximum dry density or MDD.
Before the compaction starts, it shall ensure that the excavated level is free from standing water or excessive moisture content.
The thickness of the backfill shall not be greater than 200mm.
Water Tanker Using for water spraying on the soil to achieve the moisture content of soil for compaction purposes.
The compaction test report shall be submitted to the Engineer for approval prior to preceding succeeding work.
Read More
Thanks for Reading Article Get more Information and share it with others.