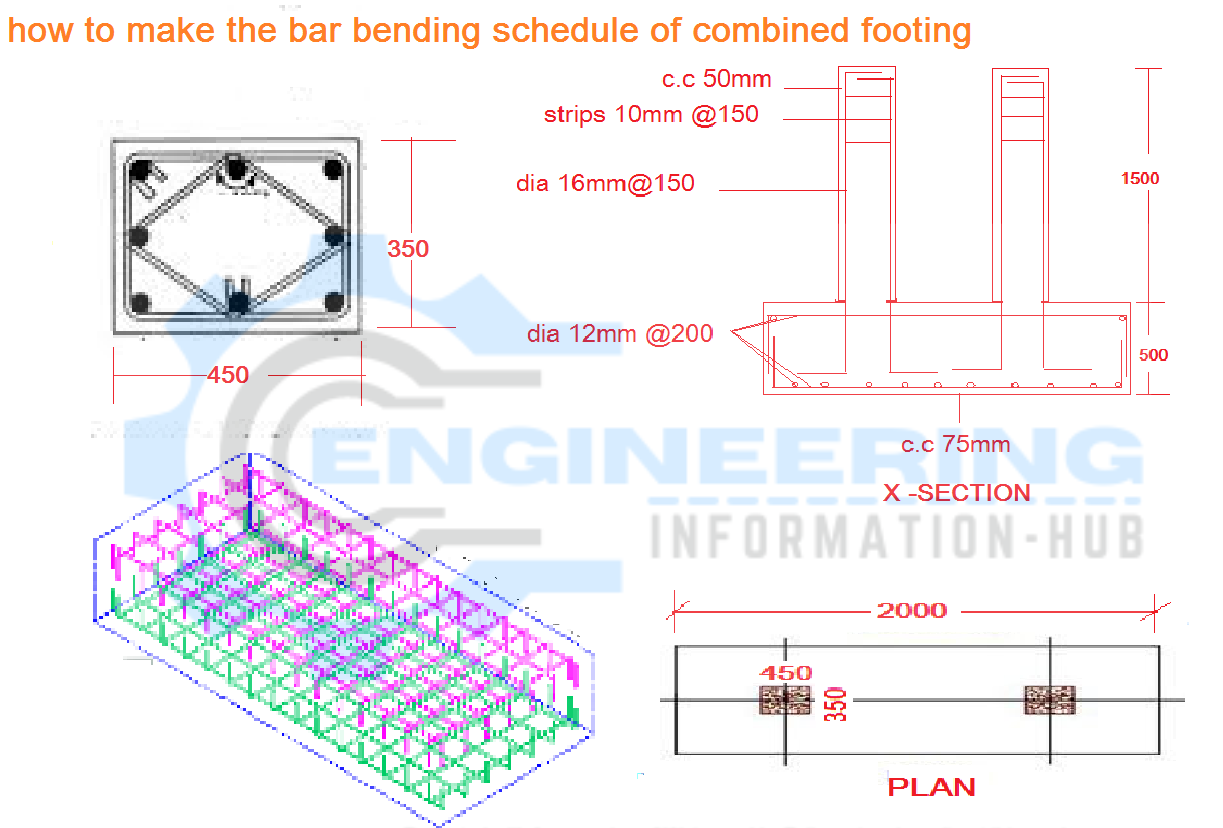 How To calculate the Bar Bending Schedule for Combined Footing
what is the combined footing?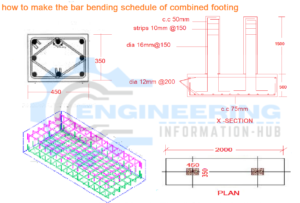 when making the combined footing the distance of two pedestals or columns is small and the bearing capacity of soil is low. And when more the two-column is overlap each other
The meaning of BBS is bar bending schedule.we will find the complete detail of steel used in footing or any foundation in bbs means to find all detail of steel as like length of steel diameter of steel weight of steel which types of steel and how to use the steel means how to fixing the rebar in the foundation or any Reinforcement concrete.
Now we make the bar bending schedule of footing.
Learn more
this footing has 2 columns, we give data is
the length of footing is 2m
width of footing is 1m
height of footing is 0.500m
concrete cover of footing is 75mm
column height is 1.5m
column length is 0.450m
column width is 0.350m
concrete covert of the column is 50mm
dia of footing bar is 12mm and spacing 200mm
dia of column vertical bar is the 16mm and the spacing is 150mm
dia of strips of the column is 10mm
In 1st step, we find the rebar of footing.
Bottom rebar
length of the long bar =total length of footing-2(c.c)+2 bend
length of the long bar= 2000-2(75)+2(320)
length of the long bar= 1850+640= 2490mm=2.450m
No's of long bar = total width of footing /spacing +1
No's of long bar =1000/200+1= 6bar
total length of long bar = no's of bar × length of one bar
total length of long bar = 6×2.490 = 14.940m
length of short bar = total width of footing -2 (c.c)+2 bend
length of short bar =1000-2(75)+2(320)=
length of short bar =850+640= 1490mm=1.490m
No's of short bar = total length of footing /spacing +1
No's of short bar = 2000/200+1= 10+1=11bar
the total length of short bar =no's of bar × length of one bar
the total length of the short bar =11× 1.490= 16.390m
The top bar of footing = bottom bar of footing 
a long bar of footing =6
short bar of footing =11
so total no's of bar bottom and top =long bar+long bar and short bar+short bar
long bar 6+6=12
short bar= 11+11=22
and length of the bottom and to bar long and short is also the same:
long bar                      short bar
14.940+14.940            16.390m+16.390
29.800m                           32.780m
the total length of footing rebar dia of 12mm = 29.800+32.780
the total length of footing rebar dia of 12mm= 62.58m
weight of footing rebar is =d²/162.25×total length in meter
weight of footing rebar is = 12²/162.25 ×62.58
total weight of footing rebar is =0.8875 × 62.58=55.54kg=56kg
total weight 16mm dia =56kg
now we find the rebar of column
length of vertical bar =total height of footing and column-(bottom c.c-top c.c -2 bottom bar dia) + bottom bend +top bend
length of vertical bar = (500+1500)-(75-50-2(12)+(20d+5d)
length of vertical bar= (500+1500)-75-50-2(12)+(320+80)
length of vertical bar= 2000-149+400= 2.549m
no's of vertical bar is =8 because the height of column is 1.5m
two column =8+8 =16bar
total length of verticals bars in two column =length of on bar ×no's of bar
total length of verticals bars in two column =2.549×16=40.784m
weight of verticals bar = d²/162.25×total length of verticals baar
weight of verticals bar = 16²/162.25 × 40.78= 642.44kg=643kg
now find the strips length
size of column =450×350
50mm concrete cover
size of strip = 350×250
length of strips = 2 sides of 350+2 sides of 250+2hooks (9d)
length of strips= 2(350)+2(250)+2(9×10)
length of strips=700+500+180=1380=1.380m
no's of strips = total height of column/spacing+1
no's of strips= 1500/150+1= 10+1=11nos
total length of strips = no's of strips × length of one strips
total length of strips =11 ×1.380=15.18m
weight of strips dia 10mm= d²/162.25× total length
weight of strips dia 10mm= 0.616× 15.18=9.3324kg= 10kg
iner small ring
length of inner strips = 4×sides+2 hooks (9d) =
length of inner strips= 4×215+2(9×10)= 860+180=1040mm=1.040
no's ofinner  strips = total height of column/spacing +1
no's of inner  strips =1500/150+1=11no's
total length =no's of inner strips × length of one strips
total length =11 × 1.040 =11.44
weight of inner strips = d²/162.25×total length
weight of inner strips =10²/162.25×11.40
weight of inner strips =100/162.25×11.40
weight of inner strips =7.026kg=7kg
total weight of strips 10mm dia =10+7=17kg
THANKS